SuperSandwich.com is a popular sandwich and salad restaurant in Shelton, Connecticut. Their mantra is "high-quality food served fast!" And with good reason. SuperSandwich.com serves 300 to 400 guests a day with most customers coming in during the narrow 11am to 2pm lunch window.
Due to the fast-paced service style, SuperSandwich.com generates a lot of light-weight waste including napkins, salad bowls and sandwich wrappers. These materials contain a lot of air that quickly fill up trash bags.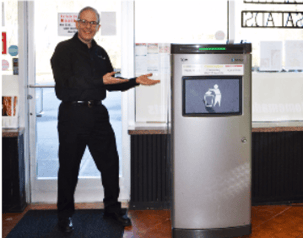 One day Steve Dolio, the owner of SuperSandwich.com, came across a TOM, an Orwak Trash Compactor for public spaces, at JFK airport in New York. In fact, he came across several TOMs installed at various locations throughout the airport and thought, I need one of those trash compactors for my store! Needless to say the impact TOM had on his store was instant - and more than something to marvel at. TOM changed how they managed trash from that day forward.
Life Before TOM
Before TOM, the store had two traditional garbage cans that had to be emptied constantly. "It was a mess and waste piled up on the floor, but with TOM in operation we went from 8-10 full bags a day to just 1 per day," according to Steve. "Most of the time, the one TOM bag still had more room for trash, but we changed it anyway for hygienic reasons."
SuperSandwich.com also saves money on the reduced number of bags needed for managing trash.
TOM - The Next Big Thing in Waste Reduction for Restaurants
TOM and TOM Junior Orwak Trash Compactors are winning over restaurant owners everywhere. Each TOM is about the same size as a conventional waste bin, but it can hold up to seven times the trash. Since there are less bag changes. This frees up staff to focus on core restaurant activities. Taking trash bag changes off the "to-do list" is something we all can appreciate.
TOM is also hands-free, so customers love to make TOM's "acquaintance." He is fun to be around and definitely captures people's attention and curiousity. This helps to keep restaurants with TOMs clean, hygienic and inviting.
TOM and TOM Junior Orwak Trash Compactors are developed and manufactured by Orwak in Sweden.
See TOM at the Hawaii Lodging, Hospitality & FoodService Expo, July 12th & 13th, 2017 in Honolulu, Hawaii!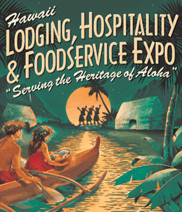 Join over 4000 participants at the 23rd annual Hawaii Lodging, Hospitality & Food Service Expo in Honolulu, Hawaii.
Over 530 exhibitors will present products, services and equipment to Hawaii's hotels and restaurants!
Visit Orwak North America at booth #133 to learn more about how to reduce waste and recycle.
---
Click on the image below to learn more about TOM!