W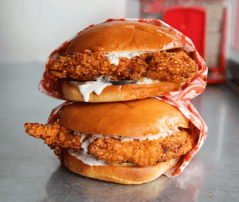 hen you think of Blue Ribbon Fried Chicken, what's the first thing that comes to mind? Chicken. Of course! Even if you have never eaten at, or heard of, the New York City or Las Vegas Blue Ribbon Fried Chicken, the name evokes an image of a scrumptious, juicy, golden-colored piece of crispy fried chicken. Yum.
Now, what to do you think of when I say TOM trash compactor? For those of you who have met TOM, you know that TOM is a rising star on the verge of stardom. For those of you who don't know TOM, you will soon.
Restaurant owners are quickly learning that TOM trash compactors are one of the hardest working and most reliable members of the team. TOMs are happy to work long days and the late shift. TOMs do not evoke images of mouth-watering, mind-bending culinary masterpieces, but if you're a restaurant owner, they do create excitement. Why? Because they offer solutions to a part of the business that generally isn't quite so glamorous.
TOM - The Next Big Thing in Waste Reduction for Restaurants
TOM and TOM Junior trash compactors are winning over restaurant owners everywhere. Each TOM is about the same size as a conventional waste bin, but it can hold up to seven times the trash. Needless to say, there are less bag changes. You don't have to be a restaurant owner to get this one. Not having to take out the trash as often is something we all can appreciate. TOM is also hands-free, so customers love to make TOM's "acquaintance". He is fun to be around and definitely captures people's attention and curiousity. This helps to keep restaurants with TOMs clean, hygienic and inviting.
TOM - Not Just Another Pretty Face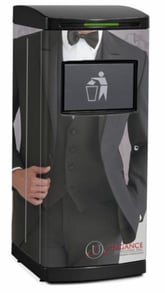 Although, TOMs are attractive in their own right, they can all also be custom wrapped to stand out, or fit in. But unlike other trash bins that may also look pretty on the outside, there is more to TOM on the inside.
Every TOM has a motion sensor that triggers the door to open when someone approaches. TOM can also communicate with you by text or email when he is full or needs maintenance. TOM is not shy about letting you know what he needs. But most importantly, TOM stands out because TOM keeps trash compacted even when it's not in use. This leads to more compaction and less bags of trash.
Less bags of trash is desirable for restaurant owners for three main reasons: 1) Less bags means more indoor space. 2) Less bags means less trash to be brought outside for pick-up and 3) less bags means less garbage which reduces trash removal costs. 1) Win! 2) Win! 3) Win!
TOM - Loved By Customers, Staff and Owners
In 2013, the Blue Ribbon Fried Chicken in Manhattan's East Village, was one of the restaurants to give TOM a chance to shine under the bright lights of New York City.
Blue Ribbon Fried Chicken, known for its individual style and unique menu, was already doing quite well. It had been voted the "Best fried chicken in the US" in Food & Wine Magazine and, on average, they served 400-500 customers per day. Blue Ribbon Fried Chicken was a success story in its own right. Well, it was these same visionaries for Blue Ribbon Fried Chicken that gave TOM his chance to shine. Some might say it became an affair to remember.
An Affair to Remember
It's hard to know exactly who loves TOM the most - the customers, the staff or the owners. Customers love interacting with TOM, staff loves how little maintenance he requires - often only 1-2 bag changes a day even on busy days! But the owners have trouble listing just one thing they love the most, so let us count the ways...
1) According to Robert Anderson, General Manager at Blue Ribbon Fried Chicken, his NYC restaurant is much cleaner with TOM on the team.
2) TOM does the dirty work previously done by a busser. According to Robert, "Before we got TOM, I always had to schedule two bussers for the late night shift. One of them was dedicated to handling the garbage. Now that TOM handles the garbage, I just need one busser."
3) Because trash has to be stored indoors until pick-up in NYC, having less trash to store indoors was a huge benefit.
4) Less bags meant less trash that needed to be brought outside for pick-up.
And let us not forget...
5) The decreased trash volume led to lower trash removal costs!
Since 2013, TOM has worked around the clock to keep restaurants like Blue Ribbon Fried Chicken clean and tidy. There's no putting this TOM in the corner. The secret it out. TOM is ready to shine.
See TOM at Waste Expo 2017!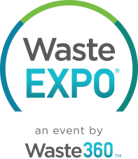 For three short days, TOM will be making an appearance in New Orleans, May 9-11 at booth #3740.
Learn more at www.wasteexpo.com.
TOM trash compactors are manufactured by Orwak. For more, information visit us at www.orwakbalers.com/TOM.