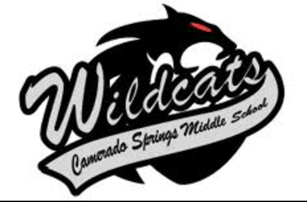 Camerado Springs Middle School, located in the California Buckeye Union School District, had been looking for ways to reduce operational costs.
When the school's facilities staff found out that they could save thousands on waste removal costs by compacting trash, they immediately placed an Orwak 5030 Trash Compactor in the Camerado Springs Middle School. Not only did it save the school $1500 a month in waste removal costs, it paid for itself in 6 months.
Since then, multiple schools within the Buckeye Union School District have saved thousands on waste removal costs by compacting and baling waste.
The morale of the story? You have to spend money to save money. It's ROI 101. Learn how the Orwak 5030 helped Camerado Springs Middle School cut thousands in operational costs.
Small Footprint Trash Compactors are Ideal For Schools
Director of Facilities, Ray Boike had heard of trash compaction, but always assumed that compactors were too large and expensive for schools to have on site. When Ray heard about the Orwak 5030 Trash Compactor, however, he was pleasantly surprised that it cost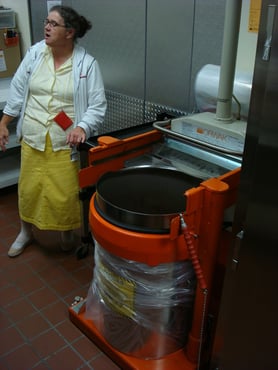 less than $10,000, took up just 7 square feet of floor space, had a compaction ratio of 10 to 1 and compacted trash in just 30 seconds.
Ray was thrilled to find such a simple way to reduce 15 large black trash bags down to two, shrinking waste volume per student by 62%. "The Orwak 5030 Trash Compactor has decreased the number of garbage pick-up days significantly... saving the school approximately $1500 a month. At a time when the State of California is looking to make huge cuts from its school budget, this is a welcome savings for our school," said Boike.
Portable, top-loading and easy to use, the Orwak 5030 Trash Compactor runs on "single phase," or standard 110V power. When a custodian empties trash into the compactor, he simply pushes a foot lever down to lock the machine for compacting. When compaction is completed, the reduced trash is then easily shifted over to an adjustable dolly, and then transported to the school's dumpster.
With $1500 in Savings Per Month, The Orwak 5030 Paid for Itself in Less Than Six Months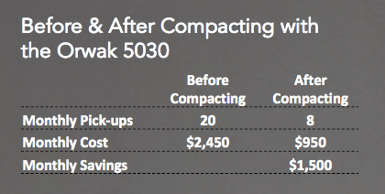 Before Camerado Springs had the Orwak 5030, they had 20 garbage pick-ups a month at a cost of $2,450. After compacting their trash, pick-ups were reduced to 8 per month at a cost of $950 resulting in a monthly savings of $1500.
As a result, the Orwak 5030 Trash Compactor paid for itself in less than 6 months! See chart below to see just how much Camerado Springs saves each year as a result of compacting their trash.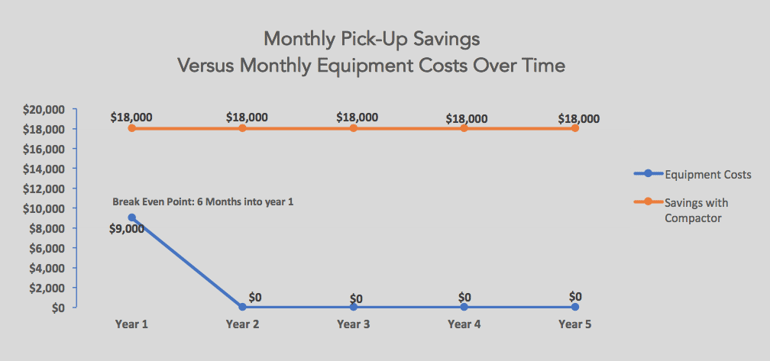 School may be out for the summer, but it is never too late to get educated!
---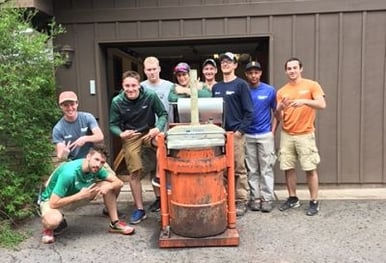 Orwak Compactors & Balers. Built to Last.
Learn about the longest continuously running Orwak 5030 Trash Compactor in America!
As of 2017, the Minnesuing Acres Orwak 5030 is 29 years old with no sign of stopping!