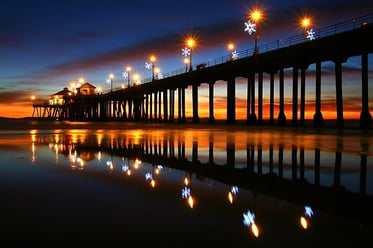 Santa Cruz Beach Boardwalk is a popular destination for pleasure seekers who come to enjoy the rides, food, arcades and sandy beach along the Monterey Bay. With three million visitors attending the seaside area year-round, the maintenance team faced a considerable challenge managing its aluminum and plastic beverage container waste. Karl Speight, Maintenance Manager, was looking for a way to reduce costs, simplify his recycling logistics and further minimize environmental impacts.
Long Standing Commitment to the Environment
The Santa Cruz Beach Boardwalk, voted best seaside park in the WORLD, is renowned for its great rides, remarkable history, spectacular beach setting, and friendly attitude. Located next to the pristine Monterey Bay National Marine Sanctuary, the Santa Cruz Beach Boardwalk makes recycling and reuse programs a priority. As a result of this long standing commitment to the environment, the Santa Cruz Beach Boardwalk team is continually recognized by the State of California and the City of Santa Cruz as outstanding models of environmental stewardship. Which is a good thing because this year-round destination accumulates between 500 and 1000 pounds of recyclable aluminum and PET beverage containers monthly with peak periods occurring April through September.
Before Orwak, Managing Waste Was a Roller Coaster Ride of Inefficiency
Prior to owning an Orwak Multi Chamber baler, Santa Cruz Beach Boardwalk crews had a very inefficient process for recycling bottles and cans. First, they would go around and gather 40 blue bins of bottles and cans throughout the grounds and bring them to a work area where they would sort them and place them in bags for transport to a state recycling facility. They would then make long trips to the recycling facility several times a month.
Karl Speight, Maintenance Manager for the Santa Cruz Beach Boardwalk, felt that this process was very inefficient. First, it required numerous large plastic bags to hold the material for transport, and the bags were expensive and not good for the environment. Second, the material was bulky and piled up quickly, requiring Boardwalk maintenance crews to frequently drive to the state recycling facility 20 miles away, turning it into a 40-mile round trip multiple times a month.
Orwak Balers Thrill Santa Cruz Boardwalk Crews and Patrons
Speight was looking for a way to reduce the organization's use of plastic bags and cut down on the number of trips to the recycling center. He found the solution in Orwak's Multi Chamber compactor and baler. The top-loading baler compacted and baled PET bottles (with the cap on) and aluminum cans, in two side-by-side chambers. With the Orwak Multi Chamber baler, the Boardwalk maintenance team could empty the materials straight into the baler, so no need for plastic bags. PET bottles would be collected on one side, aluminum cans on the other.
Also, because the baler produces small, manageable bales of about 25 pounds each, bales could be stacked in the work area until they were ready for transport. When enough aluminum and PET bales accumululated, they were easily shifted and stacked on a truck and delivered to the state recycling center.
"The Orwak Multi Chamber baler has been well worth the investment," says Speight. "Combined with the California Redemption Value (CRV) funds we receive for recycling the containers, our cost savings has been so significant that our recycling program is now paying for itself."
In a state where recycling is widespread and consumers are environmentally conscious, the effort has paid off. "Our patrons truly appreciate our effort to recycle, keep the seaside area clean and minimize the Boardwalk's overall environmental impact," says Speight.