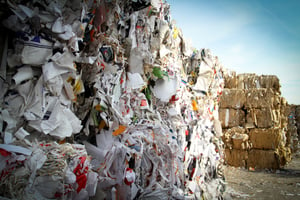 The items we consume each day have a direct impact on the environment around us. It is our responsibility to consider what we will do with the items once we are finished with them. Whether they belong in the recycling or trash, we need to know what belongs where. According to Solid Waste and Recycling of Oregon, "1.4 million tons of material collected in Oregon was recycled in 2016, which has environmental benefits equivalent to taking 690,000 cars off the road!"
By bringing compacting and baling solutions on-site, businesses can reduce trash volume by up to 90 percent, reduce costs by about 50 percent and increase revenue through recycling. Any enterprise that generates trash - from small eatery to a large manufacturer - can benefit from Orwak's products and expertise.
So what exactly belongs in each bin? Here is a helpful guide…
Recycling Bin
Paper products

Newspapers, magazines, mail & envelopes (clear windows are okay), office paper, cartons, flattened cardboard boxes

Metal

Rinsed aluminum cans, empty aerosol cans, clean aluminum foil, scrap metal

Plastic

Rinsed bottles, buckets 5 gallons or smaller, tubs 6oz or larger

Glass

Glass bottles and jars (remove lids)
What does not belong in your recycling bin?
Plastic bags, polystyrene, plastic ware, disposable coffee cups, lids, frozen food containers, paper plates/cups, take-out containers, light bulbs, glass drinking glasses, vases
Trash Bin
Coffee cups/lids, paper/plastic plates, take-out containers, plastic ware, straws, plastic bags, paper cups, garden hoses, treated wood, pet waste, cat litter, diapers, frozen food containers, broken glass, ceramics, drinking glasses, vases, light bulbs
What does not belong in your trash bin?
Electronics, computers, monitors, TVs, hazardous waste, chemicals, fluorescent light bulbs, batteries, medical waste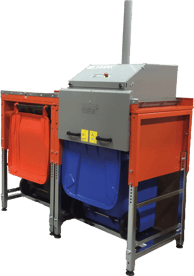 Orwak offers solutions for effective compaction of many different types of waste material including cardboard, shredded paper, soft plastic, PET, aluminum cans and mixed waste. If you produce any of the waste listed above, we have a solution for you! Already have your own bins, but need a little help managing the waste and recycling? No problem. Use your own bins and dispose 3x more trash with the Orwak Flex 4360.
For more information, download our NEW product guide. We are happy to schedule a time with you to answer any questions you may have about our products.