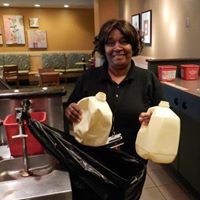 Who said balers were only for recycling cardboard? Not the folks at nine Starbucks locations in the Hartsfield-Jackson Atlanta International Airport.
On any given week, approximately 2600 plastic milk jugs and syrup containers are collected, compacted, baled, picked up and sold by HMSHost, the company who manages the nine Airport Starbucks.
This program began as a pilot in early 2011 as a commitment to GreeningATL, a sustainability initiative for the world's busiest airport. According to atl.com:
"GreeningATL reflects our commitment to achieve the triple bottom line — people, planet and profits –while working to become the world's "greenest" airport. Through innovation and cutting-edge technologies, Hartsfield-Jackson strategically incorporates a common-sense approach to manage our resources to ensure a sustainable future."
How 9 Starbucks Locations Reduced Their Trash Volume by 90%
The "milk jug pilot" began as a simple observation. Rick Moore, the HMSHost Starbucks Manager, performed an informal waste audit to assess the composition of their trash. To his surprise, he learned that over 90% of the "trash" generated was from milk jugs and syrup containers. With that much plastic in the waste stream, a recycling initiative was their first course of action.
Also, since HMSHost, the world's largest provider of food, beverage and retail services for travelers, was looking for new ways to manage and reduce waste costs at their nine Starbucks stores in the Atlanta International Airport, a plastic baler was the obvious solution. So they invested in an Orwak 3110 and the "milk jug pilot" was born.
What's So Special About the Orwak 3110?
The Orwak 3110, is a compact vertical baler. It's small footprint and low height makes it ideal for a variety of placement opportunities within small retail locations like Starbucks. The material selector makes choosing between compacting cardboard or compacting plastic as easy as pressing a button.
The real benefit is the silent operation during volume reduction. It is often sited as one of the best things about the Orwak 3110. Thanks to Orwak's silent hydraulics, the sound emission is low despite it's ability to compact 350 milk jugs into one 60-80 pound rectangular bale. Each cycle only takes 33 seconds!
Every Orwak 3110 is delivered with a bale trolley for effortless baling and smooth internal transportation of the bale. (See picture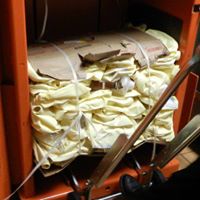 of trolley and milk jug bale below).
According to Linda Dunn, Vice President, Supply Chain HMSHost, "Recycling is allowing our stores to run more sustainable operations with measurable benefits. Funds from recycling the commodity can help offset the costs to recycle. We also have the satisfaction of knowing that the plastic jugs are recycled into new materials, completing the recycling value chain."
The Bottom Line
Each year, the program has kept approximately 135 thousand milk jugs, or about 7.5 tons of plastic milk jugs and syrup containers, out of landfills. As an added bonus, the revenue from the sale of the baled plastic, to a nearby MRF (materials recovery facility), offsets the the baler lease cost. To learn just how much you could save, while generating income from recyclables, check out our online ROI calculator.
For more information about Orwak success stories, visit http://www.orwakbalers.com/success-stories.html. For more examples of zero waste success stories, subscribe to the Zero Waste in Action Blog at http://zerowastezone.blogspot.com.
---
Considering an Orwak Baler for Your Retail Location?
With zero down for 21 days, now is the time to see what an Orwak baler can do for you.
Get started by reaching out to our experienced team of waste reduction experts for a quick assessment that could yield long lasting results!