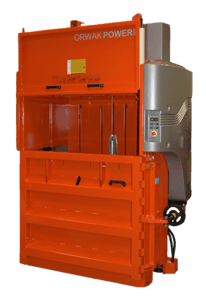 Orwak Power collection is our family of four dynamic balers. Fueled by our Black Star Technology, our balers are stronger, faster, and smarter to give you more for the money! So what makes our Power balers different than others? We have combined brains with power to give you the fastest, strongest, and most intelligent balers on the market today.
STRENGTH AND DURABILITY
An innovative hydraulic concept introduced in the Orwak Power balers! This concept, which we refer to as Black Star Technology, is based on the reverse technique of pulling the press plate downwards to compact the material instead of the traditional way of pushing it. The advantage of turning it around is that the cylinders are at its strongest point when the pressure peaks!
BLACK STAR TECHNOLOGY
Our Black Star Technology offers strong and powerful compaction of large volumes of material into very dense bales. In addition to producing dense bales, this new concept has also enabled a more compact machine design due to the placement of the cylinders at the bottom instead of the top of the baler. This makes it both easier to transport and to be placed in locations height is a restriction.
POWER IN THE DETAILS
The balers are slightly spherical in shape, a feature designed to help distribute the pressure, which builds up inside the chamber during compaction, in the best way. The quality of the steel used in the machines is carefully tested to make sure it can tolerate high pressure and long-term wear without losing its original shape or qualities. The welding techniques of the chambers is the same techniques commonly practiced in the automobile and heavy steel construction industries. All these factors in combination with the durable cylinder design contribute to a long heavy-duty service life of Orwak Power.
LESS IS MORE
You can now do more in less time and with less energy consumption than many traditional balers. The generous loading aperture of the Power-balers makes them efficient even with large volumes of material. The Power balers feature short cycle times and a gas spring-driven shutter that goes up in less than 2 seconds.
PUTS YOU IN CONTROL
The Orwak Power balers have the capacity for data storage, technical machine monitoring, and is prepared for internal and external communication through a number of different technical platforms. All these features enable you to stay in control and keep track of your compaction system and recycling. To make sure your staff is working under safe conditions, Orwak Power's PCB features a performance level D safety system. This system offers state-of-the-art protection by continuously sending out electronic signals from the baler to check that all parts of the safety system are in full operation at all times.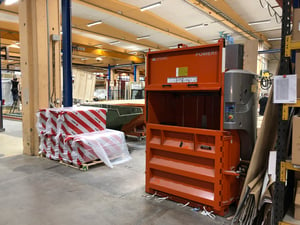 MEET THE FAMILY
ORWAK POWER 3320: The model with the lowest installation height and lightest bales in the Orwak Power family! It is perfect for environments with reduced ceiling height. The baler is ideal for compaction of soft plastics.
ORWAK POWER 3420: A versatile baler for large volumes of packaging material! Equipped with automatic shutter and autostart. It is very fast with a cycle time of only 24 seconds!
ORWAK POWER 3820: It is very similar to model 3420 but has an extra generous infeed opening, 1500 mm wide, for large boxes. It generates bales of up to 500 kg and comes with automatic shutter and autostart for convenient compaction.
Curious what our Orwak Power is already doing for our customers?
One example that exemplifies efficiency, space, safety and return on investment is the Royal Kona Resort in Kailua-Kona, Hawaii. At the Royal Kona Resort, Bradley Carlson uses his 94"H x 70"W x 42"D Orwak 3420 cardboard baler to bale cardboard boxes as they come in reducing time spent handling recyclables and creating more space. His team simply bales the cardboard inside his facility using his Orwak 3420 cardboard baler - eliminating the cardboard dumpster cost and the need to go outside late at night. Then a recycler picks it up for free and pays him a rebate for the baled cardboard.
Did you know, on average, Orwak balers pay for themselves in two years? By decreasing trash removal costs, labor to manage trash and and in some cases, by generating income through recycling, your waste problem takes care of itself. (Balers have the unique benefit of off-setting costs because recyclers are willing to pay a premium for baled recyclable material.) A baler from Orwak is a great way to improve your business. Each of our models provides different benefits so take a look at our Balers & Compactors and let us help you to discover the solution that is best for you.