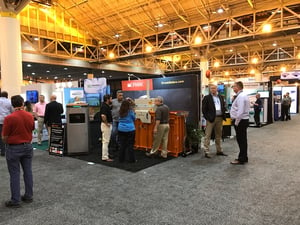 Since 1971, we've helped businesses with their waste management with more significant innovations in the solid waste industry than many of our competitors. Orwak has been in the business of helping organizations implement affordable, practical waste reduction solutions through our compaction and baling systems. We've already helped thousands of businesses reduce trash volume, slash costs, generate recycling revenue and enhance profitability, but we are not just stopping there. The future of Orwak looks even more promising. From space-saving trash compactors to multi-chamber balers, we are continuing to invest in machine technology to remain a world leader.
Orwak compactors and balers lower waste hauling costs and increase recycling rates. Our small footprint and multi-chamber balers are ideal for OCC, PET, films & soft metals. Our trash compactors lower operating costs, lead to more efficient routing and reduce the chance of injury. Orwak wants to bring these solutions to your business!
We invite you to see what we are all about at the upcoming WasteExpo Conference in Las Vegas, NV on May 6-9, 2019 at the Las Vegas Convention Center at the Orwak North America booth number 5210. We will be showcasing some of our products and will have representatives to assist you in finding solutions to make your job a bit easier.
What to expect from Orwak North America at the Expo:
- An up close view of some of our products
- Knowledgeable representatives from Orwak available to discuss our products
- Follow-up and proposals
There will be over 600+ exhibitors at the conference so if you want to learn a little more about our products ahead of time, click below to download our NEW product catalog.
For those interested in being our guest at the Expo, please reach out to us and we will provide you with a floor pass. Unable to make the Expo? We are happy to schedule a time with you to go over each of our products and help you select the best one to fit your needs.