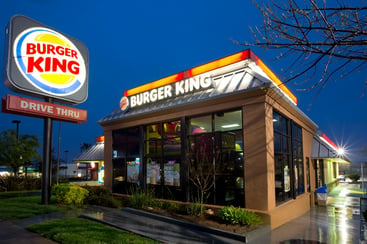 For over 40 years Burger King has been saying, "Have it Your Way." However, at Orwak, we like their 1994 slogan, "Value is King" even better. That's because for over 45 years Orwak North America has been in the business of turning waste into value.
How Orwak Trash Compactors Turned Burger King's Waste into Value
When Orwak North America first connected with Steve Grossman, Franchise Owner for 12 Burger King locations, he was struggling with the costs and logistics of dealing with trash. Although the trash was primarily composed of paper, organic material and other lightweight materials, it was costing each restaurant between $750 and $1000 per month for three or four pickups each week. In addition, staff members during each shift were required to leave the building several times per day to put trash bags in the dumpster – not an efficient use of staff time and a safety issues during the night shift.
How Burger King Decreased Costs and Increased Efficiency and Safety for Its Employees
Steve Grossman wanted to find ways to decrease its haulage costs and simplify trash handling for employees, while at the same time reducing their environmental impact. He found the answer in the Orwak 5030 trash compactor, a small-footprint machine that takes up less than 9 square feet of floor space inside each restaurant kitchen or utility area. The top-loading machine allows employees to compact 10 bags into one, eliminating the need for employees to leave the building multiple times to take out individual bags of trash.
"One of our concerns has always been with our night-shift employees: To get to the dumpster, they must exit the restaurant's back door. This introduces personal safety issues for employees, as well as additional security concerns about the door being left ajar," says Grossman. "With the Orwak 5030, our night shift staff members can compact trash all night without having to leave the building at all. The morning shift simply removes the single compacted bag of trash and disposes of it in one trip outside."
Another benefit of reducing trips to the dumpster is that employees can focus on more high-value customer service tasks inside the restaurant. Managers estimate that each shift, the team gained back 30 minutes of time that it would have used going outside repeatedly to dump trash. With everyone inside during the shift, it's easier for managers to keep track of their employees' time.
The King Rules Savings as the Clear Winner
The bottom line for Grossman, however, was the clear cost savings. Because the trash bags are compacted, the restaurants went from three or four garbage pickups per week down to two. This reduced haulage costs by 40-50%. There were other cost savings as well, including the reduced wear and tear on asphalt surfaces due to less garbage truck activity.
"Our Orwak compactor helps us to keep employees safe, make good use of time and save money," says Grossman. "We discovered that with the combination of haulage and labor cost savings, we will see a return on investment for the Orwak 5030 in two to three years."
---
Do you have recyclables, like cardboard boxes, filling up your dumpster faster than you can get rid of it? Bale them!
Try an Orwak baler for 21 days with $0 down. After 21 days, rent, buy or lease an Orwak baler and make costly trash pick-ups a thing of the past. Learn more.